introducing our 2023 wallpaper collection
Our latest luxury wallcoverings offer an eclectic array of luxe metallic finishes, rainforest-inspired patterns, and bold geometric prints that turn your home into an oasis.
Design for Abundant Living. Made by Hand and Heart.
Whether for home, apparel, or accessories, our patterns are hand-designed by Rochelle, printed on sustainable fabrics with eco-friendly dyes, and ethically crafted in local factories. We aim to create the flyest possible products while doing the least possible harm.

Click here to find out how this all got started.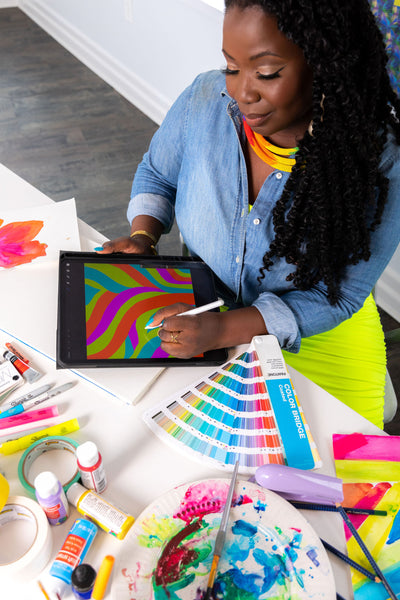 What Our Customers Are Saying
I am absolutely in love with my new decorative pillow: it is gorgeous! Beautifully designed, amazing texture, soft and eye/catching, this pillow has everything I eanted and needed to elevate my living room decor at it highest! 

Tamcorso
This pillow adds a nice touch of color and design to my shoe bench. I love this little pillow. It's very cozy and fluffy! Quality of this little pillow is a 10 for sure very well made and the stitching you can't even see!

elarson85
Rochelle Porter's Pangea pillow has got to be one of the most beautiful pillows I have ever seen. Truly, the pictures do not give it justice. The colors are so bright and vivid, I'm officially obsessed. After receiving my pillow, I had ideas of creating a space just for me, aka some sort of "she shed" or " she space". Yes, this pillow inspired me

Sheena
I love the color combinations in this pillow! It really adds a nice summery feel to the room and such a nice way to transition out of the colder months. The quality is excellent. To be honest, this pillow is higher quality than my furniture! It makes me want to be a better decorator

Melie
This is such a cute lightweight throw, perfect for a little pop of color throughout the house

Larry
I wish I could give this more then 5 stars. The quality is great and I was SHOCKED at the comfort. It's so soft!! I ended up using this for my nightly pillow because it's just so comfortable. It's so stylish and pulls my room together. I love it.

Clairebeae
This is a beautiful and comfortable sports bra. Bright colors and patterns are wonderful for plus size bodies too!

Jane
I know it's been said by other reviewers but these are TRULY the softest and comfiest leggings I've ever had! The design is so fun and particularly in this time of quarantine, it's hard not to keep them on for days at a time! Will definitely be buying more items from Rochelle!  

Logan
These leggings are the best thing ever. They are super soft, don't over stretch and are just down right amazing. Got lots of compliments the first day I wore them!!! I love them! 

Lynne